Successful week for Lyme bowlers
---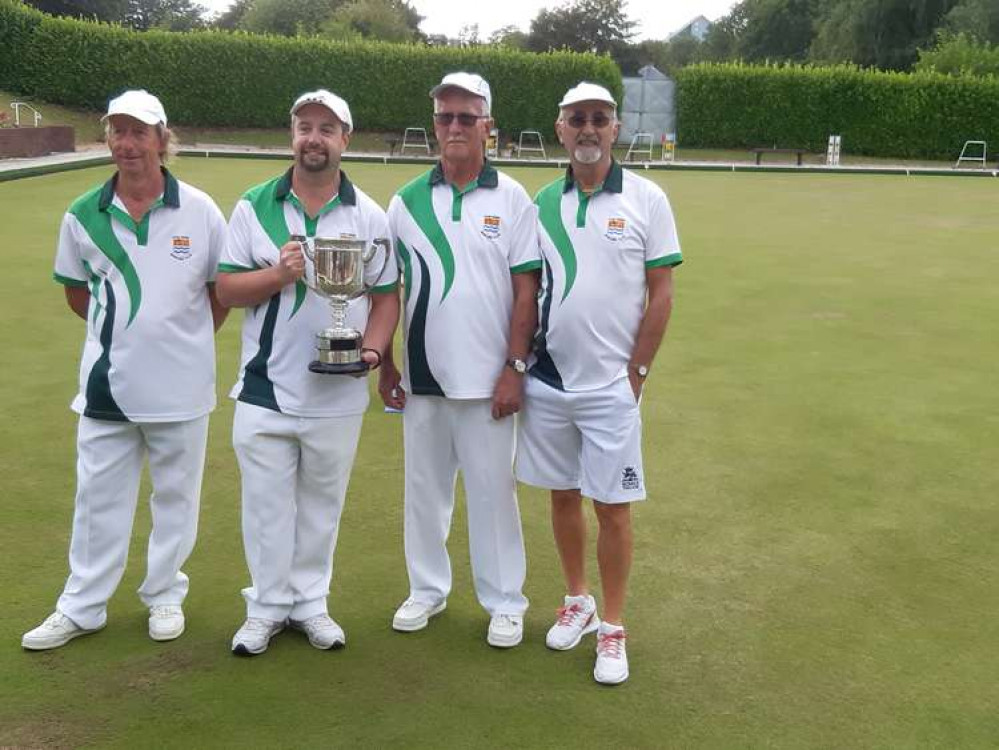 Paul Moffitt, Steve Pomeroy, Barry Rattenbury and skip Paul Pomeroy, winners the Dorset Mens' 4s
IT's been a great week for Lyme Regis Bowling Club. Firstly, two teams of mixed fours, playing for the Tony Allcock trophy, won their area final against Gillingham and now go on to play Somerset's best in the next round.
The two teams were: Alan and Trevor Allman with Pam and Allan Weech and Barry and Nicky Driscoll With Pauline Knight and Paul Moffitt. Paul Moffitt's rink managed to win by 12 shots whilst Allan Weech's rink went down by two, giving the team a 10-shot win overall, a truly great team effort.
Secondly, Paul Moffitt, Steve Pomeroy, Barry Rattenbury and skip Paul Pomeroy won the Dorset Mens' 4s, beating Shaftesbury to secure themselves a place at Leamington for the National finals (see photo above).
Sunday saw the running of the annual '101' trophy. Some superb bowling was on offer, a treat for those watching. The men's trophy was won by Paul Pomeroy, who narrowly pipped father Steve. The ladies' trophy was won by Naomi Benson in another close contest against Angela Rattenbury. Supper was very kindly provided by Ben Stephens with the catering in the capable hands of club catering manager, Avril Sherring.
In the leagues, the Championship men went to Portland Victoria where they contrived to lose very narrowly on all three rinks thus, coming home with nil points.
The Ladies made their way to Sherborne only to find that the game was later in the month. All was not lost though as, they stopped off at a cafe on the way home and indulged in a cream tea. Sounds good to me!
A better time was enjoyed by Lyme 2's men who picked up 4 points away to Dorchester. The two winning rinks were: A Hopkins, P Stephens, K Barnes and R Cridge (22-20) and J Owen, R Gale, J Sherring and R Hobbs 13-12.