Another Rockett passes the 1,000 run mark
---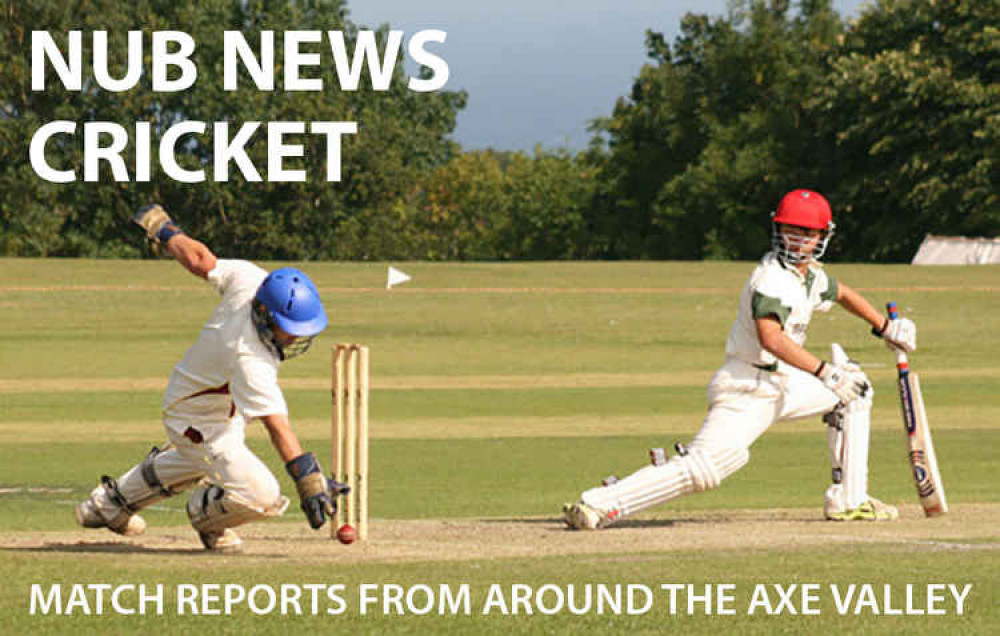 Crunch match this weekend in Kilmington 2nd X1's promotion chase
Saturday, July 30 - Kilmington 1st XI v Thorverton 1st XI
There was more than a touch of deja vu on Saturday as Kilmington came out on the wrong end of a very close game against perennial rivals Thorverton, writes Martin Huscroft.
The Mid Devon side have proved Kilmington's bogey team over several seasons. Stand- in skipper Matt Rockett won the toss and batted first.
Despite nearly every batsman getting a start, Kilmington soon found themselves in deep trouble at 135-6 against an attack well led by Ben Slaviero. Not for the first time, Harry Johnston (50) proved to be the home side's Red Adair, with support from the tail in the form of Oscar Oborn-Corby, Ben Fuzzard and Tom Olive. A score of 234-9 was a good result from where we had been. Skipper Jake Choules (3-35) had the best figures for Thorverton.
Oborn-Corby, Fuzzard, Joel Seward and Josh Short all bowled well for Kilmington, chipping away at the Thorverton order, but none could dislodge Alistair Chilcott (94*). When Rob Crabb (2-28) came on and immediately turned the ball sharply, Kilmington scented an unlikely victory, but a couple of clubbed boundaries, missed chances and rejected appeals saw Thorverton home with 9 balls to spare.
Chilcott batted really well. Thorverton are a good crowd, but it would be nice to win a tight one against them at some point.
A local derby versus Seaton on Kilmington sponsors day beckons this weekend.
Kilmington 1st XI 234-9 (50 overs) Harry Johnston 50, Tom Gooding 28, Jake Choules 3-35, Jason van der Meulen 2-43 Thorverton 1st XI 235-8 (48.3 overs) Alistair Chilcott 94*, Paul Fielder 30, Rob Crabb 2-28, Josh Short 2-42
Honiton 2nd XI v Kilmington 2nd XI
Honiton batted first and excellent opening spells by Dan Fuzzard and Mike Summers pinned them down in the early stages. How Fuzzard went without reward is anybody's guess.
After their slow start, young Matthew Maltravers (78*) and skipper Jon Hext (72) batted excellently, putting on 173 for the third wicket. Kilmington only snatched their second bowling point when Sam Olive (2-20) picked up two wickets in the last over as Honiton finished on 192-4 off their 40 overs.
Ralph Cook was out for 13 but Alex Rockett (117*) and Hal Cook (54*) saw Kilmington to victory in only 21.1 overs with a 145-run second wicket partnership.
Rockett went past 1,000 runs for the season, only the 12th player to do that for Kilmington. Given that two of the others are his brother Matt and his grandfather Tony, you can see the contribution the Rockett family has made to Kilmington cricket club.
A surprise win by Cheriton FitzPaine, Saturday's opponents, against Culmstock has blown the promotion race wide open and Kilmington will have to be on their game.
. Honiton 192-4 (40 overs) Matt Maltravers 78*, Jon Hext 72, Sam Olive 2-20 Kilmington 2nd XI 194-1 (21.1 overs) Alex Rockett 117*, Hal Cook 54*