Axe Cliff seniors brave the weather in Taunton away day
---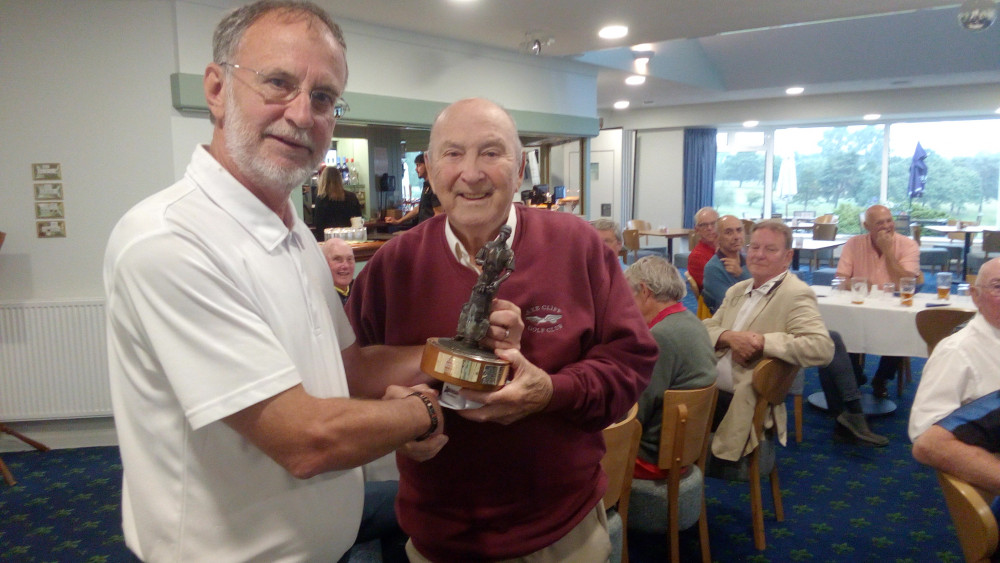 Senior's captain Steve Thompson, on the left, presenting the winner Geoff Hughes with the Trophy at his Away Day at Taunton & Pickeridge
By Dave Bruce
It looks like July is going to be more challenging to us golfers as we don't tend to like rain but 22 hardened Axe Cliff Golf Club Seniors are used to rain in the Captains' Away Days and sure enough, last Tuesday, they braved the elements all day long at the lovely course at Taunton and Pickeridge which is one year older than Axe Cliff.
It was a very enjoyable day despite the weather with some good scores by most and particularly by Geoff Hughes, 88 years young, who won the cherished Geoff Hubbard Trophy with a fine score of 37 points and helped his team of Captain Steve Thompson and myself take second spot behind the strong Simon Wellington team. Captain Steve presented the trophy to him but Geoff wanted to thank the Captain for organising the event and for his generous gifts to everyone, the officials at Taunton for the excellent state of the course and the wonderful meal provided. Most of us had the stamina to play again, at home, on Friday in theJuly Medal with Tony Strong winning Division One with a nett 71 ,closely followed by Ian Carvell on 73 with sheep farmer Dave Morgan taking third place with a 74. Division 2 was also a close result with Chris Walker's countback putting old crooner Phil Christmas in second place, both on 71. Former top statistician of Exeter University, Roger Hill, played well for third spot on 72.
The Men's section had much improved conditions on Sunday with good scores in their annual Geoff Davies Trophy, especially from young Jason Green winning with an excellent 40 points, closely followed by Daniel Taylor's 39 and master builder Mike Cottam's 38 to take second and third places respectively. In their July Medal Simon Sweetland took Division One honours with a 74 and Chris Alexander had an amazing net 65 to win Division Two.
I have attached my photo of Senior's Captain Steve Thompson, on the left, presenting the winner Geoff Hughes with the Trophy at his Away Day at Taunton & Pickeridge with other seniors in the background having enjoyed a great meal..