Campaign launched against 130-house Seaton development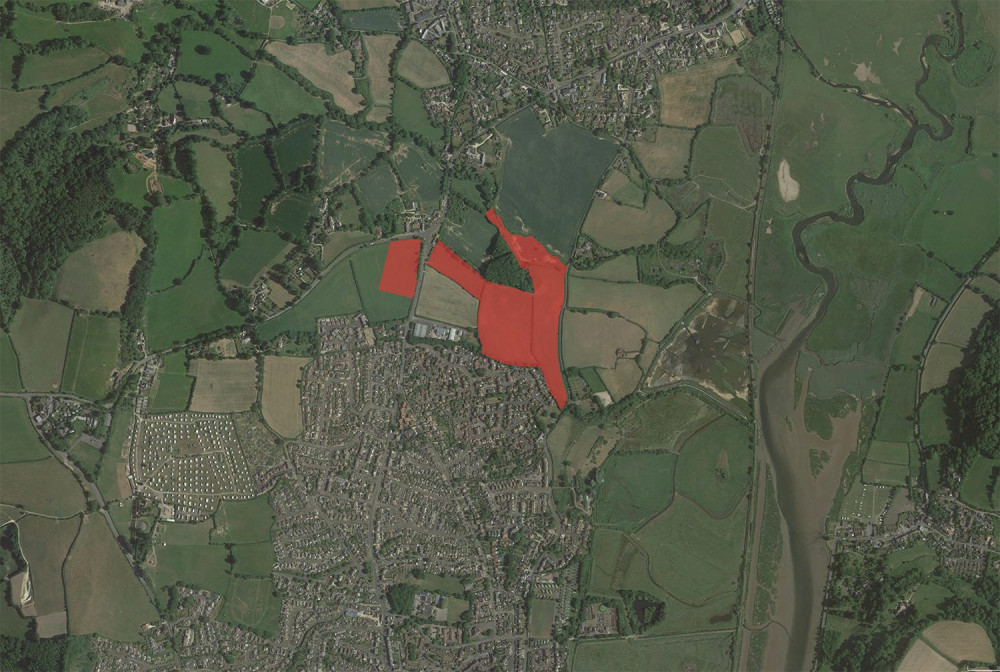 The map shows the area for development between Seaton and Colyford in red
Plans for a major 150-house development between Seaton and Colyford went on display last week.
Baker Estates has recently acquired an interest in land either side of Harepath Road, Seaton, to the north of Rowan Drive (to the west) and Drovers Way (to the east).
Part of the land is already allocated for a mixed employment and recreation development in the adopted Local Plan; the working draft of the new Local Plan proposes to allocate the same land, plus additional land immediately to the north and east of the existing allocation for around 150 dwellings and 0.6 hectares of land for employment development.
Baker Estates said: "We believe that there is an opportunity to deliver a well-planned, mixed-use development with a new sports pitch for Seaton as well as a range of housing opportunities, similar to our existing developments at Rowan Drive and Barnards Hill."
The plans went on display at a public exhibition last week and are now available to view online via the website www.bakerestatesconsultation.co.uk/land-east-west-of-harepath-road-seaton
They outline the following:
Up to 130 new homes, to the east of Harepath Road, comprising a mix of bungalows and two storey houses, creating a high-quality, safe, and secure residential environment within a natural green setting.
25% affordable housing, available to local households either via shared ownership or affordable rent options.
Land for a sports pitch to meet the requirements of the local community. The pitch has been positioned to the west of Harepath Road and will provide recreation space for the community and promote healthy and active lifestyles.
Potential for access to adjoining commercial proposals controlled by others.
An area in the north east corner of the site will remain undeveloped with the potential to add planting, enhancing the site's ecological value and habitat corridors whilst retaining the green separation between Colyford and Seaton.
Appropriate landscaping, consistent with the Green Wedge objective of maintaining a gap between Seaton and Colyford to the north.
Footpaths will connect the two residential parcels allowing pedestrians and cyclists to move freely through the site but restricting vehicle movement.
Baker Estates intend to submit a formal planning application later this year.
Several previous applications for the area have been heavily opposed by residents of Seaton and Colyford, and the current scheme has already received some objection.
A Facebook campaign page called 'Oppose Baker Estates Building on the Green Wedge Between Seaton & Colyford' has been launched.
Page found Megan Searle said she believed there were many reasons why the development was "not feasible", including the lack on infrastructure in the town, including doctor and dental practices and schools; the risk of flood; and the effect on local wildlife.
She commented: "Along with destroying a large space of green land where many important bees, butterflies and insects are working hard to keep our ecosystem healthy, and Seaton Wetlands is just across the road.
"We are so lucky here to have and enjoy Seaton Wetlands - a real area of beauty and full of all types of animals and bugs. Will the noise and disruption of building affect them? Will critical flight paths for bats be taken? Will we lose one of our greatest local and tourist areas?
"Although I appreciate there may be a need for houses, there are some brown spaces that could be used ­- the old Racal site, for example.
We need to gather information, contact the correct officials and stand together to protect the wedge!"
New seaton Jobs Section Launched!!
Vacancies updated hourly!!
Click here: seaton jobs